Richmaid is now OPEN for Breakfast, Lunch, Dinner at Inside Dining - and - Take Out.
Open 7 Days a Week. Hours:

Monday & Tuesday: 7:00 am to 2:00 pm

Wednesday through Saturday 7:00 am to 8:00 pm

Sunday: 7:00 am to 7:00 pm.
You can order from our regular menu --

CLICK HERE

.
Please call us 209-368-4279 to place your order. Thank you for your support!
Richmaid Restaurant In Northern California Is Overflowing With Deliciousness And Old-School Charm
Hiding in the city of Lodi is a restaurant that not only boasts a wide selection of delicious eats but is also filled
with tons of local history. Originally opened over 80 years ago, Richmaid Restaurant is an iconic dining
destination that you just can't help but love. Serving up classic homestyle food in a retro-style dining room, this old-school restaurant is worthy of your
attention for a variety of reasons. Keep reading to learn the whole story behind this nostalgic diner
and why you should stop by during your next Lodi adventure.
Richmaid now offers
Broaster Chicken!
Dine in ~ or Take Out!
The Richmaid Restaurant was established in 1938. In 1998, it was purchased by Janet & Gary Crow and is now family owned and operated. We offer great food and great service! Home-style foods just like Mom used to make. All of our sauces, gravys, mashed potatoes, carrot salad and dishes are home-made. We bake our fresh turkey, pot roast and meatloaf daily. We buy local meats like our country sausage and bratwurst. What can get better than that? Everything is made with an extra touch of goodness. Even though we no longer carry Richmaid ice cream, we're still the best around and we make a mean banana split. (Not to mention our home-made bread pudding!)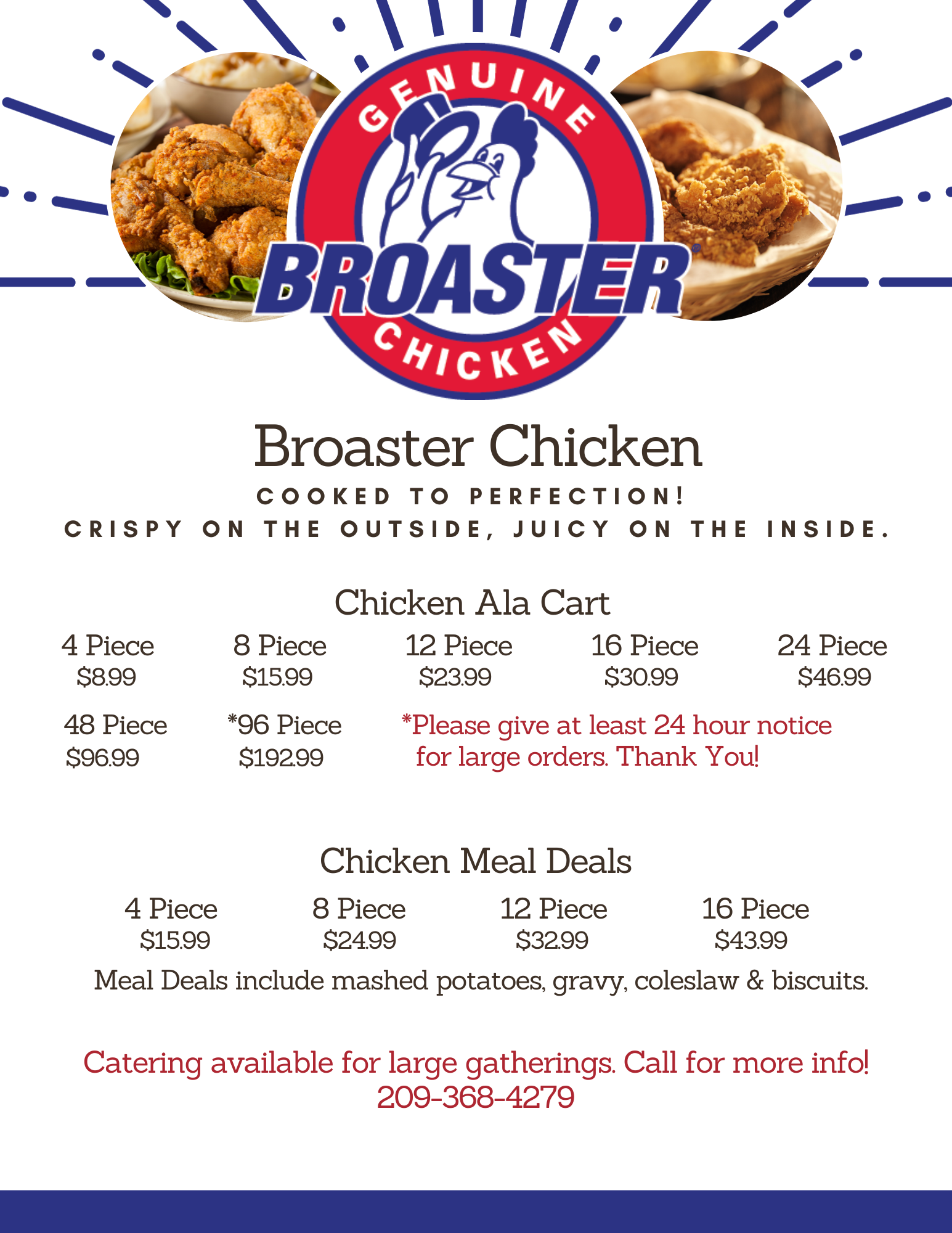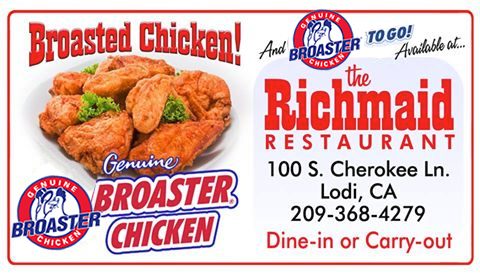 Meet the Business Owners: Janet and Gary Crow
Janet has been in food service for over 35 years. Many of you remember her as a waitress from Carrows. Her husband Gary has been in food service as well for many, many years. He started out opening "Happy Steak" restaurants throughout the valley. Over the years he has also worked in food distribution for many local companies. Together they decided that they knew what it took to run their own restaurant and opened the Richmaid in 1998. This was a great adventure for them and their children that proved to be successful over the years.